Bring it on, 2023!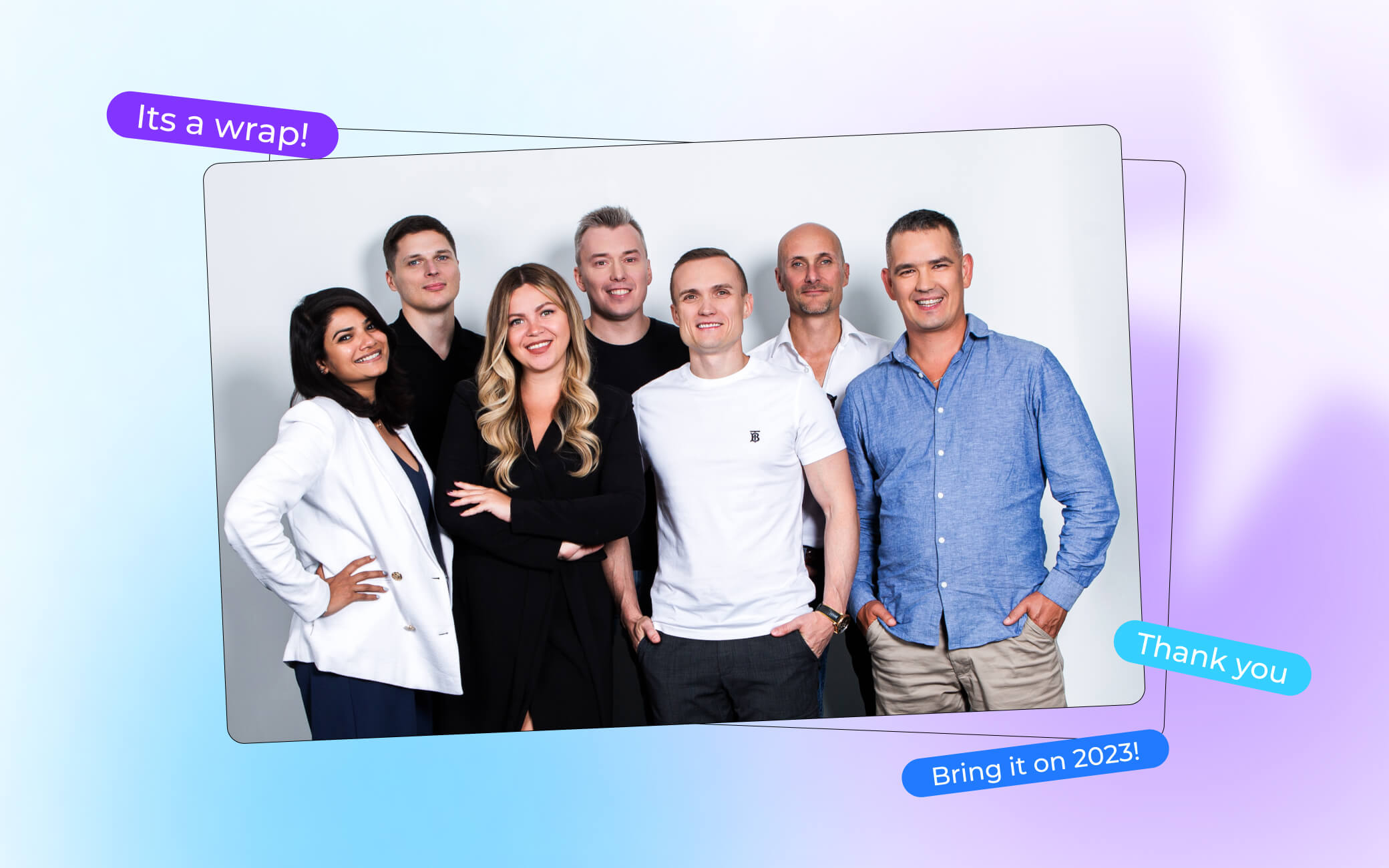 Mitgo team looks back on a year full of challenges, inspiration and growth
What a challenging, the eventful year 2022 has been! A topsy-turvy year of post-Covid market recovery mixed with spiraling world events that threw everything into a whirlwind.
Throughout the year, we've undergone a major transformation. We've changed from being a single performance marketing network into a multi-product, multi-service company spanning four continents and 10 offices.
We've rolled out new products and features, helped countless partners boost their revenues, strengthened the voice of our expertise to be heard across digital businesses, shared our key learnings and our data, adapted to the new reality we've found ourselves in and laid the groundwork for something that will soon surpass our previous scope.
We've redefined what we're capable of, how we see ourselves and what the world sees in us. All this has required courage, consolidation and the combined efforts of our entire team.
Not only did we survive this tough year, we grew stronger and more future-proof – in both our strategy and in our mission to enable even more businesses to grow and evolve through technology-led partnerships.
We managed to make the absolute best of an extremely difficult situation.
Here's a look back at a few 2022 moments we're particularly proud of.
Nominations and awards: hard work pays off
We were nominated for a total of 10 awards – many of which we took home as proud winners.
Top Retail Marketing Solutions Provider in Europe 2022
The US magazine Retail Tech Insights awarded Admitad Partner Network #1 in the Vendors category for innovative omnichannel solutions.
Petal Search, a mobile search engine by Huawei, honoured Admitad Partner Network with their Partner of the Year award. This was due in part to the fact that the GMV generated through Petal Search users' online purchases through Admitad advertisers' stores doubled in the first half of 2022.
Admitad was named Best Growth Partner as part of Grow with Huawei 2022, whose awards recognise the business achievements of partners and agencies working alongside Huawei to leverage Huawei Mobile Services.
Neha Kulwal, Managing Director, APAC & India at Mitgo, was honoured with the prestigious Businessworld 40 Under 40 Leadership Award, named Superwoman 2022 by Social Samosa and Branch Head of the Year 2022 by Adgully.
It is an honour to win these prestigious awards, not only because the awards recognise my potential but, at the same time, inspire many women to start their own entrepreneurship journeys
Neha Kulwal
Managing Director APAC & India
Head of ConvertSocial, Ksana Liapkova has been named "Contributor of the Year" by Hacker Noon, a tech platform with over 25K contributing writers. Ksana has become a trusted voice in the community of content creators and we look forward to her sharing many more insights in 2023.
We never get tired of repeating our mantra – people are our best and most important asset. We as a company take real pride in our people and the recognition of their achievements. Well done!
Exploring new markets and celebrating our successes in established ones
The year started with fantastic news for our European clients – the opening of a new office in Warsaw, Poland, with Mateusz Łukianiuk appointed as country manager.
Not only will this move boost our brand's presence and awareness in the region, but the work of our colleagues has already started to make serious in-roads there.
We scored a nomination at the Global Performance Marketing Awards, as well as securing Shopee's very first case study. Our personal highlight was being quoted by a business influencer, president of the Polish-Asian Chamber of Commerce and former Minister of the Economy and Deputy Prime Minister of Poland, Janusz Piechociński.
A second 2022 focus market was LATAM. Along with the appointments of Caiki Flaeschen as regional managing director and Julio Martinez as country manager for Mexico, Team LATAM secured a GPMA nomination for Best Affiliate & Partnership Strategy LATAM, due in part to the incredible success of their collaboration with MaxMilhas.
Last but not least, we have just opened a new office in Georgia, adding even more value to Mitgo's global footprint. As our company expands into new markets and businesses, this Tbilisi-based office will provide a local and global touchpoint for highly-skilled IT professionals.
Numbers, numbers, numbers – and they look good!
We launched and supported a range of new products and services, including ConvertSocial, Monetize, Tapfiliate and Univibes. All in all, these very different platforms have all performed well, accounting for 128.6 million actions and attracting more than 135K publishers.
When it comes to market indications for strong sales days like Black Friday and Singles Day, our key 2022 learnings tell us that, despite the coming recession, consumers are still spending money online. What's changed is the method in which they're doing it.
Saving money has become a business model in itself. When it comes to traffic and orders, vouchers, loyalty and cashback programmes are really showing their value.
Black Friday orders through our platform increased 59% worldwide (compared to the days running up to it), with the MENA region topping the list with a 135% increase in orders and 94% increase in consumer spending.
Singles Day took us by surprise. Numbers were particularly strong in our emerging markets of Poland, Brazil and India, as well as in the MENA region. Content creators working with Admitad doubled their revenues in these markets, and we noticed an important shift in customer preferences for goods and services.
What does it tell us? Firstly, the Christmas sales period begins much earlier in Autumn than before, and consumers are using every opportunity to find a good deal – provided the price and the product offerings match their expectations. Social media and messaging platforms have also become a source of trust, something which needs to be smartly leveraged by brands, retailers and content creators. Credibility is a valuable token – and one that can be fragile at times.
Welcome to the publisher payment revolution
We all know that one of the biggest issues in affiliate business is the speed at which publishers can withdraw their money. For this age-old problem, Admitad has rolled out a solution – Instant Payout Pro.
With Instant Payout Pro, revenue withdrawal is now possible within a few minutes (maximum one day) of a completed transaction. With a successful pilot project under our belts, we now invite the world to join our revolution.
And we have good news already since the service has been rolled out: half of the publishers who were granted access to the service, used it immediately, and +10% used it twice.
We expect even more positive results in the coming months, stay tuned!
So, what's next for 2023?
As the proverb goes, if you want to go fast, go alone. If you want to go far, go together. Our success has been built on the growing and nurturing of partnerships with communities of businesses and entrepreneurs who see all the benefits of working together. This is set to continue – onwards and upwards.
"We look forward to even more exciting, innovative projects in the near future as we continue our commitment to our partners," states Alexander Bachmann, CEO & founder.
We wish all of our partners and clients, as well as our global team, a happy and successful 2023!